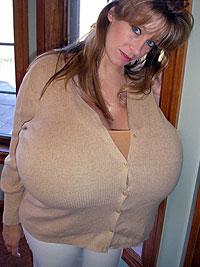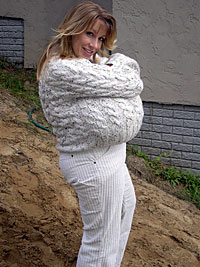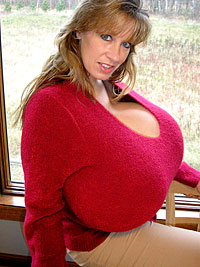 Like Minka, Maxi Mounds, and Teddi Barrett, Chelsea Charms has experienced growth from her polypropylene string breast implants. But Chelsea Charms has grown the biggest, even though Maxi Mounds holds the official record. With an estimated 10,000cc equivalent size implants inside each of her beautiful huge breasts, Chelsea is able to stretch any top she puts on to an extreme that is indescribable. Her giant boobs don't only project a few feet in front of her, but out to the sides as well. I don't know about you, but one of the hottest things is when a woman's shirt gets wider beyond her body as it attempts to conceal mounds and mounds of breast flesh.
In private, Chelsea Charms has troubles finding tops to cover her big boobs, and often has to buy clothes that are too big. And yet she still stretches the material out, distorting her clothes. But she will wear those tops that are too small for you in these exclusive pictures and videos. She'll then do a strip tease for you, slowly revealing her immense chest. She'll bounce and shake her huge tits for you and have you cumming in no time.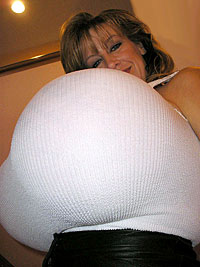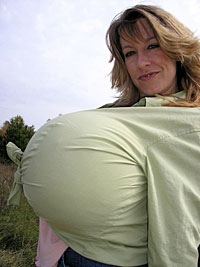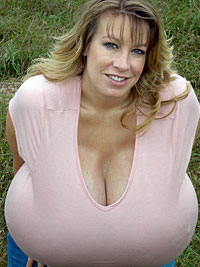 For those who don't know metric, 10,000cc's in each breast is 20,0000cc's total, or 20 litres. That's 5.3 Gallons!! Even some big boobs lovers may ask why so big. The simple answer - because she can. When your breasts are as big as Chelsea Charms, why not see just how big you can grow. Besides, she enjoys the power she holds over insecure, weak little men - as do the men!
Seriously, how could anyone resist the thought of Cheslea Charms straddling you, her immense chest towering over top. The last thing you see is her sly smile as she takes a deep breath. Then deeper, and deeper. Her chest expands, more and more. Her face disappears as her chest measurement increases. Then, just as you thought it could grow no more, she rolls her shoulders back, extending her chest further. You hear the fabric in her top starting to crack as the stitches give in to her ever expanding big boobs. Bigger they grow, farther they reach. No the only thing you see is the underside of her giant tits like a ceiling above you. "Does this turn you on?" she asks.
:: MORE BIG TITS GIRLS ::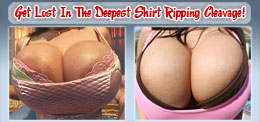 ExtremeBods started in 1997 with one thing in mind: BIG BOOBS! Today, as one of the oldest big boobs websites on the net and having associations with a number of busty models and websites, ExtremeBods is a must see for the big boob lover.

Another example of a classic slim-and-stacked model, Sarenna lee hails from an era when every girl was trying to outdo the others by sheer breast size. Year after year these girls grew bigger and bigger to much fanfare. Sarenna Lee was well known for more than just her huge tits, but striking good looks as well.

One of the all-time superstars of the big bust world, Busty Dusty defines tits-on-a-stick. Her slim-and-stacked frame, amazing ass, beautiful eyes - multicoloured eyes no less, and sultry voice make her one of the best seducers of men everywhere. While she may be retired now, her abundance of photos and videos during the time in which the biggest boobs possible where the best, lives on in abundance.

If you said BB Gunns has big, beautiful eyes, you could actually be talking about this mature beauty's amazing eyes! That is if you took own off of her spectacular, massive breasts long enough to notice. BB Gunns is a mature woman, who flies kind of low under the radar. She has astronomically huge breast implants and loves to show them off, but with the exception of her official website, she has relatively limited web exposure. Be sure to check out this older woman's big boobs!